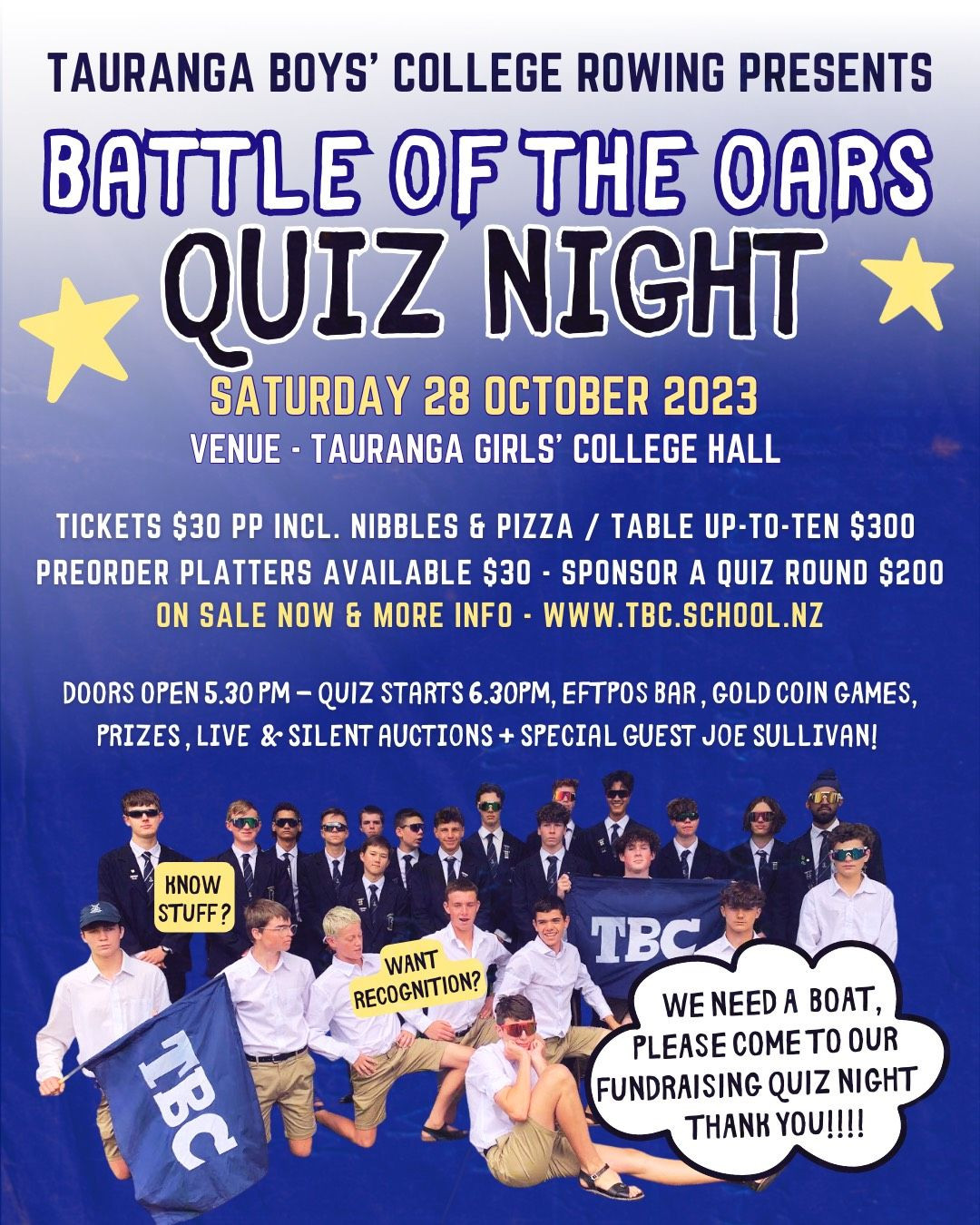 Put on your thinking caps and get ready to showcase your trivia prowess at the Tauranga Boys' College Rowing Quiz Night Fundraiser!
Join us for an exhilarating evening filled with brain-teasing questions, friendly competition, and a good dose of fun, all in support of an admirable cause.
The event will unfurl at the Tauranga Girls' College Hall on Saturday, 28th October, with the doors open at 5.30 PM and the first question popping at 6:30 PM.
Tauranga Boys' College Rowing team is not just about strength and synchronicity; it's about dedication, hard work, and the dream to row their way to the top in the upcoming season. But, they can't do it without your backing – and what's a better way to support them than by challenging your brain cells and enjoying a night of intellectual stimulation?
For just $30 a ticket, you not only get to participate in the quiz but also stand a chance to win some incredible prizes. And for businesses looking to make an even bigger splash, we're offering a 10-person Corporate Table package for $300. Not only does it offer a premium seating position, but also comes with company recognition throughout the evening.
If you're keen on a more prominent spotlight, consider sponsoring a quiz round for $200. Your business will be highlighted as the round sponsor, providing added visibility and promotion among the attendees.
There will be raffles galore as well as some fun games to play, so bring along some gold coins! In addition there are some fantastic items available in our silent and live auctions.
So, summon your squad of brainiacs, book a table, and delve into an evening where knowledge meets fun. With your presence and generosity, the Tauranga Boys' College Rowing team can make waves and reach their goals. Mark this date, be there, and partake in the Quiz Night – an event of fun, facts, and fundraising!